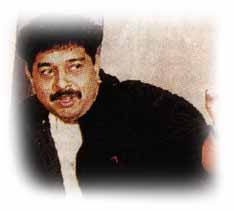 Shankar Mahadevan is carving a name for himself in the world of music with his debut album Breathless. An album that has made everyone sit up and take note of a man who can apparently sing an entire song in just one breath.

Shankar Mahadevan has been trained in Classical Music and strated playing the veena since the age of 5. He gave his first solo performance when he was 11. His talents managed to flourish according to him, cause he met the right people at the right time. Guru T.R. Balamani was his main teacher .He was trained by Tara Devi, which took care of his North Indian semi-classical learning. He did bhav-geet with Srinivas Khale, the legendary Marathi composer.Among Western musicians, Shankar has grown up with Pink Floyd, Stevie Wonder, Bobby McFerin and Weather Report. Also a lot of Indo-Jazz with Louis Banks, and currently is a part of his band.
. .Also there is no mention of
Shankar mahadevan is a quaified software engineer and was a part of the team that revolutionised teh development of fourth generation computer languages, before he decided to give that all up and become a full-time singer.

He is a prt of a Swedish band called Mynta, whereby he travels to perform twice a year. Also performing in the Chineese Jazz festival , he considers quite important to him.
Shankar Mahadevan's biggest advantages is his versatality. Besides singing songs like 'urvasi urvasi' (Humse hai Muqabla), 'Hindustan' (Border),
'Oh la la' (Sapnay) and 'I love you' (Auzaar), he's made a mark in jingles and fusion.
He's used a variety of influences , ranging from Hindustani classical, Carnatic, folk and jazz.

The 31 year old singer explains that he is happy with the way his film music has done. He is now awaiting the release of Refugee, China Gate, Haseena Maan Jaayegi, Indian and Laawaris.

Thanx to sundar (sundar@hotpop.com) for some accurate info that features on this page.
Main Himself Music Listen BuyAlbum Groups Lyrics Feedback
---
site created by tanmay patwardhan
mail me at breathless46@usa.net